Biography
Vakia Stavrou, originally from the Mediterranean Island of Cyprus, is an internationally acclaimed singer and songwriter, based in Paris, France. After finishing her music studies at the Prague Conservatory, she pursued a career in the music industry and has made an important debut after being signed by SONY Music in Athens, Greece.
Her own composition "SOZINHA" which she recorded in Portuguese, has rapidly become a major hit in Greece soon after the release of her first album and not long after, in many countries in Europe and Latin America. Her ability of writing and performing in many languages in such a perfection, is one of her strongest assets.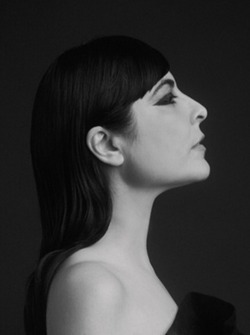 Vakia has already toured in many countries, presenting her work in various important music festivals and in various music halls and theatres . To mention a few : Festival Au Fil des Voix –PARIS, Mawazine Festival Rythms of the World – CASABLANCA, Klangvokal World Music Festival – DORTMUND, Barnasants Songwriters's Festival, BARCELONA , Teatro Sao Luiz – LISBON, New Opera Theater – MOSCOW, Gasteig – MUNICH. She was also invited from the United Nations to perform in Geneva , Switzerland in 2016 in a prestigious gala concert in the Human Rights and Alliance of Civilization's Chamber, accompanied by the Symphony Orchestra of Morocco.
Her latest album "ALASIA" ( 2017) produced by the French Label "Accords Croises" in Paris, features her identity as a songwriter with her own compositions , written in three languages. The well known Portuguese writer and poet, Jose Luis PEIXOTO ( Nomitated with the Jose Saramago Award ) has contributed in this album by writing especially for Vakia, two poems that successfully, she turned into songs.
Vakia was described by the International Press as " a breathtaking voice that moves the audiences at once" or even " a highly sophisticated and enchanting artist, that makes one hear the vast beauty of her voice" [ Bertrand Dicale , France Culture ] Her ongoing projects include an upcoming recording of her new album in Paris and concerts all over Europe.
Gallery
Gala concert, Maldives

Gala concert, Maldives

Festival Au Fil des Voix, Alhambra Theater, Paris

London Studio | Credits: Bruno Lassus

London Studio | Credits: Bruno Lassus

Vakia Stavrou at Concert in Theatre Lucernaire, Paris

Vakia Stavrou with Carlos Bernardo at Axiothea Festival 2019, Cyprus

Vakia Stavrou at Axiothea Festival 2019, Cyprus

Faneromeni Festival, Bank of Cyprus Foundation, Cyprus

Vakia Stavrou at Alhambra Theater, Festival Au Fil des Voix, Paris

Vakia at Mawazine Festival, Rythms of the World 2018, Rabat Morocco

Vakia at Mawazine Festival, Rythms of the World 2018, Rabat Morocco

Vakia Stavrou at Axiothea Festival 2019, Cyprus

Madame Figaro Photo Session | Credits: Michael Kiprianou

Events
Arènes de Lutèce, Paris - Vakia Stavrou & Carlos Bernado

Strovolos Theater Nicosia "Charity Concert supporting the Agioi Omologites Charitable Municipality"

Concert at ART BASE, Brussels, BELGIUM
Press
ROND-POINT DU JAZZ: Alasia le dernier album de Vakia Stavrou

Live interview for the Moroccan Radio on Festival Mawazine, Rabat Morocco

Phileleftheros Newspaper 2019: Vakia Stavrou: In life I was led by a great passion

DIE WELT Germany: Vakia Stavrou, A voice without Limits

TRAD' MAGAZINE: Cyprus without borders : the Cypriot singer /songwriter presenting a new multi-lingual project , ' Alasia '

ARTS & CULTURE: Cypriot singer Vakia Stavrou's new album is one of the most notable music finds of the year